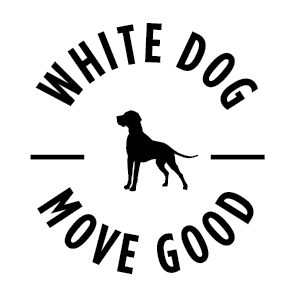 "I feel better now than I did at 30"
If you've ever wanted to feel strong and flexible in every joint of your body.
To have an exercise program that engages your mind as well as your body, with ever changing exercises expertly matched to you, and where you are today, then White Dog's Move Good is for you.
White Dog's Move Good is a low impact, high gain training method that makes you strong from the inside out. No machines. No big weights or 'til you puke' intensity.
The program is personalised to your specific requirements, using your own body weight to holistically build strength, flexibility, fitness and balance in your own time.
The Move Good exercises and stretches are drawn from the training programs used to develop Olympic level gymnasts. The genius of the Move Good program however, is that the exercise progressions have been structured and adjusted in such a way that they suit the everyday adult – regardless of age or fitness level.
Go beyond your pain
This is Todd. He's a school principal, father of two, husband, son and die hard live music fan. He's closer to 50 than 40 and has been doing Move Good for about a year. Until then he had drop foot and chronic lower back pain. Move Good has helped him rediscover his love of handstands, given him better core strength than his pupils and made his workouts something he hates to miss rather than something he has to do.  His back doesn't hurt and his foot no longer drops.
There are 8 exercise 'threads' in Move Good. The exercises are progressive. Every time you master one thread you move to the next one, leading you step by step, towards levels of physical wellbeing you may not have thought possible for you.
White Dog Move Good. Feel Great.
Move Good is run in a supportive, small group environment, with the instructor ensuring you have the attention you need to safely progress the exercises and stretches.
The Move Good exercise space is nothing like a gym. It's more like a playground. Surrounded by your fellow 'Move Gooders' it's normal to hear people laughing together, encouraging one another and cheering when someone earns a monkey stamp for mastering an exercise. There are women in their 60's hanging upside down on gymnastic ladders. Lawyers and school principals working on handstands. Married couples helping each other stretch.
Personal programs in a friendly group atmosphere
This is Brigid and Jeremiah. Brigid works in HR and Jeremiah is a librarian. They don't know each other outside Move Good but you wouldn't know it to look at this picture. That's one of the great things about Move Good; the people. It's a friendly, supportive group united by a desire to feel great day to day and a willingness to put in the effort. Neither Jeremiah or Bridgid are naturally flexible, but they both feel better in their daily life and can achieve more in their workouts by doing the Move Good stretches.
In Move Good you get:
1 x personalised strength, fitness and flexibility program
2 x Move Good sessions per week.
1 x extra Group Class per week (excluding Clinical Pilates sessions)
When you start Move Good you get a program booklet in which you track your progress and collect monkey stamps. It guides you through the various stretch sequences that support your strength and endurance work.  The progressions in the book are the same for everyone but because we are all different everyones' workout is a unique combination of different stages from each progression.
You also receive our Move Good eBook which explains in greater detail the science, physiology and history of the program.
Strength and flexibility at any age
This is Cinzia. She's a mother of two grown men, full time administrator, lover of movement and developing pilates instructor. She's been doing Move Good for about 6 months and while she has struggled to master some of the exercises, it's only made it all the more satisfying for her when she nails it like she is in this exercise called a straddle up. Cinzia is climbing the second mountain and Move Good is part of her travel pack.
---